The 2021 Subaru Love Promise Customer and Community Commitment Award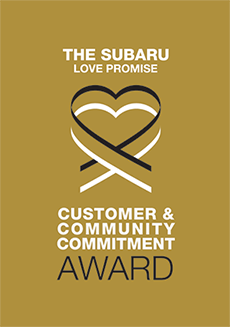 We've been nationally recognized for our dedication to our customers, our community, and the Subaru Love Promise.
We're honored to receive the 2021 Subaru Love Promise Customer and Community Commitment Award. This award nationally recognizes elite Subaru retailers who provide an exceptional customer experience at every interaction with Subaru. These retailers have also demonstrated an outstanding commitment to supporting passions and causes in their local communities in important areas such as the environment, community, health, education, and pets.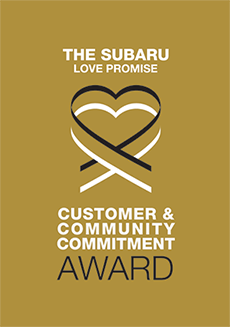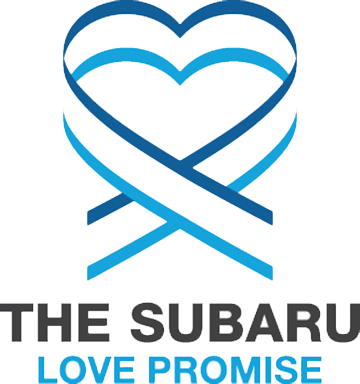 What is the Subaru Love Promise?
Subaru and our retailers believe in making the world a better place and the Subaru Love Promise is our vision of respecting all people. This is our commitment to show love and respect to our customers and to work to make a positive impact in the world.
How is Brunswick Subaru dedicated locally to the Love Promise?
Our Love Promise can be seen in various partnerships with local charities and non-profits. We're grateful for the opportunity, not only to be a part of our community, but to serve it as well. It has been our honor to work so closely with "Feeding Medina County" to raise nearly $100,000 over the past 3 years! The warmth and generosity of our Customers, Employees and the community has been an incredible blend to create so much assistance to those in need. The "LOVE" that represents Subaru has been evident in our community and continues to grow!
Love Promise Stories from Brunswick Subaru
Subaru and Brunswick Subaru believe in making a positive impact on the communities in which we live and work. We uphold that belief through our Love Promise Community Commitment. Every month, we select inspiring stories from customers and partners from around our area who strive to support our collective commitment and feature them here
Buying my dream car - Liana N
Patrick went above and beyond to provide me with a hassle free and personable experience when buying my 2021 Subaru WRX STI. I had been looking forward to purchasing one of these vehicles for a very long time and he was very knowledgeable and helpful when it came to discussing all of the features on my new car. I have never had a better car buying experience then with Patrick at Brunswick Subaru. I will be a forever customer and am very grateful for the treatment I received. I highly recommend Patrick to anyone looking to buy a Subaru.
---
Share The Love Event - Eric H
This year Brunswick Subaru and Subaru of America had the pleasure of donating over $65,000 to SHANEROCK! A local charity providing care and rest to local families battling with pediatric cancer. Check out the video attached with a message from SHANEROCK
---
Agate Ruff's Adoption Journey - Tanya J
Agate was rescued by our organization in October of 2019. He was brought into our facility along with 52 other dogs who were part of a hoarding situation. Every dog that we rescued from this home was suffering from Sarcoptic Mange, otherwise known as "scabies". We were contacted by a pound in southern Ohio who did not have the capacity for bringing these animals in. We were the only organization to respond to their calls for help. Our team drove down and rescued 53 dogs in total. All of them, including Agate, had to receive all their vaccinations, had to be heartworm tested, spayed/neutered, and received dental cleanings and tooth extractions. Their initial intake alone took the better part of 4 hours. We also completed medicated baths every 3 days to assist with clearing up their mange. It was one of the largest rescues we have ever done. It was also one of the most rewarding. We named their group the "Diamonds in the Ruff". They were all scared, stressed, and confused. We were able to see their personalities come out over the coming months as we nursed them back to health. Agate was one of our longer residents in the Ruff group. He was sent out to foster care in March of 2020, at the beginning of COVID-19. Unfortunately, he also managed to escape his foster family's home. He was missing for over 3 months. We received a phone call from a local shelter that they had successfully caught him, and he made his way "home" to us. He was in good health and was easily rehabilitated. A few months later, a woman and her daughter came in to adopt a dog. They fell head over heels for Agate. While here he was very nervous, and skittish. He was not one to jump up in his handlers laps and preferred to slink as low to the ground as he could. This was not a challenge for his adopter, and nor did it scare her away. Now, over 1 month later, Agate is settling in beautifully. He has a fully fenced in yard that he can explore at his leisure. He has several orthopedic pet beds that are his to snuggle in. His new owner has taken every precaution to ensure he is happy, comfortable, and safe in his new home. She has even sponsored a portion of an adoption fee for two other "Diamonds in the Ruff". We are so happy and thankful she chose to open her home to a One of a Kind Pet!
---
SHANEROCK - SHANEROCK O
This year Brunswick Subaru and Subaru of America had the pleasure of donating over $65,000 to SHANEROCK! A local charity providing care and rest to local families battling with pediatric cancer. Check out the video attached with a message from SHANEROCK.
---
Subaru Share The Love Event - Shanerock O
This year Brunswick Subaru and Subaru of America had the pleasure of being able to donate over $65,000 to SHANEROCK! A local charity providing care and resources to local families battling with pediatric cancer. We can't imagine all the families that the SHANEROCK organization were able to help in 2020 during these trying times.
---
Subaru Loves Pets - Tom G
As someone who has adopted 2 dogs myself, I was truly surprised to find out that Brunswick Subaru and Subaru of America are hosting adoption events to help local shelter pets find loving homes. Can't wait to get Rusty and Chole acquainted into my new Forester! They are going to love it!
---
Subaru Loves The Earth - Brevin W
Being a very environmental conscious person it truly touched my heart seeing the "Subaru Loves The Earth" recycling stand at Brunswick Subaru! It's the little things like this that will help save our Earth! Also a BIG thank you to the managers Mike & Eli for working extra hard on getting me a great deal on my NEW OUTBACK!
---
Thank you BRUNSWICK SUBARU for ALL THAT YOU DO! - Sandy H
Feeding Medina County works to reduce food insecurity for children, seniors, and families across our county. We are the only organization that provides a Weekender for Children program that supports children and families who experience food insecurity. Feeding Medina County works to ensure no one goes hungry. The Weekender for Children program provides over 1,000 bags of food weekly for children in 32 elementary, Head Start, Pre-School and Medina County Developmental Disability schools. The program is designed for children on the National Free and Reduced lunch program and ensures they have enough food to eat over the weekend. FMC provides supplemental food monthly to 350 seniors and disabled living in nine low-income housing facilities across Medina County and coordinates monthly food distributions servicing 140 families. Our 1-acre community garden produces about 3,000lbs. of produce going directly to seniors and families needing support. FMC provides a free food transport service that delivers to 24 Medina County pantries, local churches, and the Salvation Army. Last year alone FMC transported ½ million pounds of food to these pantries that in turn fed 7% of Medina County population. Over the past six years the Share the Love Campaign from Brunswick Subaru and National Subaru has impacted our Weekender for Children Program in the following ways:*Subaru has donated $176,058.80 to Feeding Medina County*That has paid for 48,635 Weekender Bags* This amount provided 145,905 Weekend meals to children across Medina County* The donation provided 340,455 pounds of food for children in need THANK YOU BRUNSWICK SUBARU AND NATIONAL SUBARU FOR SHARING THE LOVE!
---
LLS Loves Brunswick Subaru - KERRI P
We are excited to be partnering with you again for Subaru Loves to Care in June. Thank you to the staff and Subaru buyers! On behalf of our patients and their families, you make a difference!
---
A Survivor's Story - Kerri P
For the staff of Brunswick Subaru, their visit to the Taussig Cancer Center at the Cleveland Clinic was personal. One of their own knew what it was like to sit in a transfusion chair for hours on end waiting and hoping this tedious process would lead to a cure. Michael LaGuardia Brian Kennedy, and William Wall were welcomed by Cleveland Clinic staff member and LLS Board of Trustee member Amanda Maggiotto and LLS staff member Chelsea Zimmer. The five of them visited with patients sharing notes of encouragement and warm blankets to provide a physical reminder that these patients were surrounded by a great cloud of supporters. "Love means being more than a car company" was lived out through this visit. LLS is committed to making the lives of patients and their families better and we are grateful for the support of Brunswick Subaru to make this happen
---