2012 SUBARU STELLAR CARE AWARD WINNER ANNOUNCED
Record Setting Brand Acknowledges Top Ranking Dealer
Cherry Hill, N.J. - Subaru of America, Inc. announced that Brunswick Subaru of Brunswick, Ohio is one of an elite group to be a recipient of the prestigious Subaru Stellar Care Award.
"The Subaru Stellar Care Award is given to top ranking Subaru dealers who deliver an exceptional ownership experience to our customers," said Bill Cyphers, senior vice president, sales for Subaru of America. "Award recipients meet the high Stellar Care benchmarks for customer satisfaction, brand representation, and operational excellence. Our brand has enjoyed record sales for the past three years and this success is in large part due to the excellence of our retail body."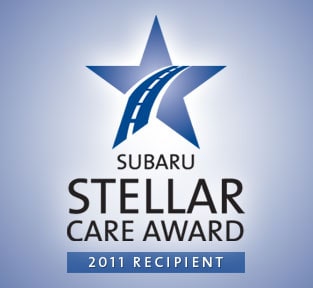 Developed by Subaru of America in cooperation with Subaru dealers, the Stellar Care program focuses on delivering an excellent ownership experience to Subaru customers. The program has as its focus that   developing positive, long-term relationships with Subaru customers is a fundamental part of daily business for a Subaru retailer.
"All Subaru dealerships deliver a high quality experience to our customers," said Cyphers, "but the Stellar Care Award winners excel in the way they take care of their customers and represent the Subaru brand."
The highly coveted award does not come easily and to be named as a Stellar Care recipient, Subaru dealers must dedicate significant time and resources to the customer experience throughout the year. Performance measures for the program range from participation in all customer-focused Subaru programs to maintaining a customer-friendly, inviting facility. Dealers must also achieve outstanding satisfaction scores for all key areas in Sales and Service.
Brunswick Subaru is located at 3015 Center Rd Brunswick, Ohio 44212.
For more information, the dealership can be contacted at 888-685-6354 or at
Brunswick Subaru